Gone are the days of simply slapping a few words on an inexpensive nameplate and calling it quits.
Today's modern business owners understand that personalized nameplates come with the potential to supercharge their branding, from in-office signage to customer facing designs.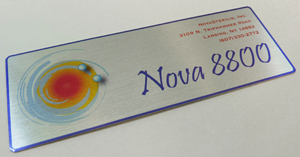 With new trends developing all the time, here are some ways for businesses to make sure their nameplates stand out from the competition.
The Minimalist Approach
In today's world, it can feel like the overwhelming trend is: "More is always better." We're constantly bombarded with media, sweeping change, confusing facts.
But minimalism is a refreshing approach to life that embraces the power of simplicity. It's about stripping away the excess and focusing on what truly matters.
Recent trends in nameplates lean towards this minimalist approach, where intricate decorations take a backseat for clean, bold lettering. The focus on big, readable lettering makes nameplates increasingly accessible to different people – and it simplifies the messaging, and gets straight to the point.
The result? Simplified nameplates that are sleek, clear, and have a timeless appeal.
Striking Typography
A good nameplate serves as a representation of a business and its products or services – and the nameplate's design can make a huge difference in terms of attracting customers.
Therefore, many businesses are choosing to go for bold, striking typography that's unique and easy to read, making their brand immediately identifiable to potential customers.
Additionally, nostalgia is becoming a popular trend for nameplates, with many businesses opting for older fonts, particularly those reminiscent of the early internet style of the Y2K era.
Vibrant Colors
Nameplates are no longer just a way to identify something or someone – they have become a means of self-expression.
New trends are focusing on adding a pop of personality to nameplates through the use of vibrant colors
Whether it's a bold and bright color, or a unique and unexpected combination, these new trends in nameplates are setting a new standard for creativity and individuality.
With this new movement towards more eye-catching nameplates, the possibilities for creative expression are endless.
Stand Out from the Rest
Nameplates hold a lot of weight as an identifying marker, and a cost-effective marketing tool. It's important to make sure that yours stands out from the rest.
In today's fast-paced world, business trends are shifting at an unprecedented rate. However, Detroit Name Plate Etching excels in the product identification industry by continuously innovating to stay ahead of the shifting landscape.
At Detroit Name Plate Etching, our talented team of experts has a passion for staying up-to-date on the latest industry developments. We pride ourselves on our commitment to continually push the boundaries of what's possible in product identification, ensuring that our customers receive nothing but the very best, every time.
Contact Detroit Name Plate Etching to request a quote today!