Over the years, many things have changed when it comes to making your business stand out in today's crowded market. But sometimes the old ways are still the best ways.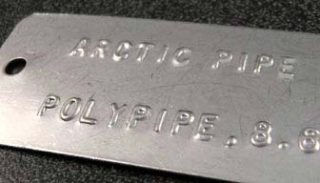 Embossing is a classic technique that dates back thousands of years, yet it remains a powerful way to capture people's attention.
With its simple but elegant design, embossing can add a touch of sophistication to your business cards, letterheads, packaging, and more.
There's just something about the tactile quality of embossed designs that makes them stand out and leave a lasting impression on customers. So don't be afraid to tap into this age-old technique – it just might be the key to taking your business to the next level!
What is Embossing?
Embossing is a unique and creative way to produce raised or sunken letters, numbers, or designs in sheet metals.
With its ability to produce a variety of shapes, embossing offers endless possibilities for creating products that are distinctive and visually appealing.
Whether you need to add a decorative touch to your business signage, or create custom metal products, embossing is a reliable and cost-effective solution. It's no wonder that this process is still popular after all these centuries.
The Widespread Phenomenon
We may not realize it, but we come across embossed products everywhere, from credit cards to product packaging.
Embossing has a versatility that makes it an integral part of our daily lives. And it adds a touch of style that elevates whatever material it touches:
Plastic
Paper
Leather
Titanium
Aluminum
Copper
Stainless steel
What's more, it's a great way to create a lasting impression, literally, since the raised text stands out in a way that's less prone to fading or wearing off.
With such a range of materials to choose from, it's no wonder that embossing has become a go-to option for businesses, artists, and individuals alike.
The Rugged Solution
Embossing has become popular in the manufacturing industry, where durability is a top priority.
Caution plates with embossed warning or security information are ideal for use in harsh conditions, or where there's a high risk of wear and tear.
Products where embossing thrives include:
Logo plates
Industrial tags and labels
Caution plates
Metal plates
These products are designed to withstand tough environments, ensuring that they'll maintain legibility even if painted over, or exposed to extreme weather conditions.
In other words, embossing is a reliable and rugged solution for anyone looking for lasting quality and durability.
The Extra Dimension
There are endless possibilities when it comes to embossing, so why not tap into this age-old technique and turn something ordinary into something extraordinary?
From subtle and delicate raised designs to bold and eye-catching textures, embossing can be used in a variety of ways to add extra dimension to your brand.
With over a century of experience as a leader in product identification, our team at Detroit Name Plate Etching will provide you with the perfect solution tailored to your budget and design needs.
Take the leap into more vibrant branding with the unbeatable power of embossing – contact Detroit Name Plate Etching and request a quote today!