Stainless Steel
For Toledo Businesses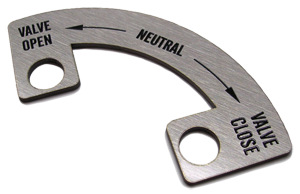 Whether you're building a data plate, name plate, or home for your Toledo business's logo, you need a material that can stand up to time, the elements, or whatever else your job will throw at it. That way, it will remain legible and functional for years to come, saving you money on replacement costs for longer than you'd expect.
With the right etching and finishing processes, a stainless-steel plate can last a lifetime, and at Detroit Name Plate Etching, our aim is to make products that fit our customers' expectations long after we deliver your plates to you.
For over a century, DNPE has been here to help companies in Toledo like yours. We create the plates you need to function out of the materials you need to stand the test of time. Stainless steel is one of many of Detroit Name Plate Etching's specialties, but you can find more here.
We can create an infinite variety of high-quality, long-lasting, stainless-steel plates for anything you need them for. Stainless steel has been used for centuries to stand up to rust, oxidization, and more. That's why it's popular in food service and industrial zones: it can withstand splashes, corrosion, and more.
Toledo business serve a wide range of functions. That's why we provide a number of configurable choices. We strive to go above and beyond, so you can rely on us to exceed your expectations. Let our 100 years of expertise producing logo plates, data plates, and more do the talking.
If you're ready to start working on your custom-designed, one-of-a-kind stainless-steel plates in Toledo, get started right away! Call us now!
Our Stainless steel is durable, unusual, and looks striking when etched without fill paint. We stock several gauges: .014″/.35mm to .120″/3mm.