High Durability Stainless Steel for Houston
Stainless Steel Plates Can Do Wonders for Your Houston Business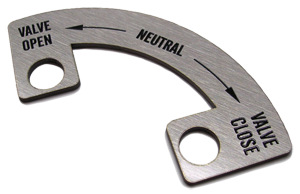 The Ultimate Durability
Life is always winding up for the pitch – and you want your Houston business to be ready for whatever it throws at you.
To take it all head on, you're going to need something sturdy, durable, and able to withstand punishment. You want stainless steel.
With the right etching and finishing processes, a stainless steel plate can last a lifetime – and at Detroit Name Plate Etching, we aim to make products that fit all your needs long after we deliver your plates to you.
Adapts and Endures
Stainless steel is a material that's truly stood the test of time. It adapts and endures, especially in challenging environments where other materials might falter.
Whether it's the harsh conditions of the outdoors or the constant exposure to water, stainless steel can hold its own against the elements. And its natural resistance to rust and corrosion means that it's an ideal choice for plates that need to withstand daily punishment.
It's no wonder that stainless steel has been the go-to material for craftsmen and designers for centuries.
Superior Strength
When it comes to choosing the right material for name plates, data plates, and logo plates, put stainless steel at the top of your list.
Not only is it known for its strength, but it's also lightweight and easy to work with. That makes it the popular choice among manufacturers, especially in industries like food service and construction – where sturdiness, durability, and resistance to damage are essential.
Trusted to Last
When it comes to finding a quality stainless steel plate that can withstand the test of time, look no further than Detroit Name Plate Etching.
At DNPE, we take pride in delivering a product that exceeds your expectations.
And, with over a century of experience, we know what it takes to make something that lasts. From nameplates to data and logo plates, we have the skill to provide your Houston business with the top-notch stainless steel signs you're searching for.
So, get in touch with us today, and let us show you why our clients keep returning to DNPE for all their signage needs.
Our Stainless steel is durable, unusual, and looks striking when etched without fill paint. We stock several gauges: .014″/.35mm to .120″/3mm.