Stainless Steel
For Columbus Businesses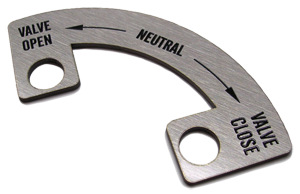 You need a material that can withstand time, the elements, or whatever else your job might throw at it whether you're creating a data plate, a name plate, or your company's logo for Columbus. It will stay legible and functional for years to come so you'll save money on replacement expenses for longer than you think.
A stainless-steel plate can last a lifetime with the proper etching and finishing processes, and our goal at Detroit Name Plate Etching is to exceed our customers' expectations long after we deliver your plates to you.
For more than a century, DNPE has been there for businesses like yours in Columbus. We make the plates you need to operate from the materials you need to endure. One of Detroit Name Plate Etching's specialties is stainless steel, but you'll find many more options here.
We produce an untold number of high-quality, long-lasting stainless-steel plates for any purpose. Stainless steel has been utilized for millennia to resist rust, oxidation, and other factors. It's popular in the food service and industrial sectors since it can endure splashes, corrosion, and more.
A business's brand identity is crucial, since it creates a first impression on customers. A logo plate, data plate, and other such designs are all part of an organization's branding. That is why we provide a variety of configurable options. We go above and beyond. Let our century of expertise in creating logos plates, data plates, and other similar items do the talking for you.
In Columbus, if you're ready to start working on your one-of-a-kind stainless-steel plates designed just for you, get started right away! Get in touch with us right now!
Our Stainless steel is durable, unusual, and looks striking when etched without fill paint. We stock several gauges: .014″/.35mm to .120″/3mm.