Stainless Steel
For Cincinnati Businesses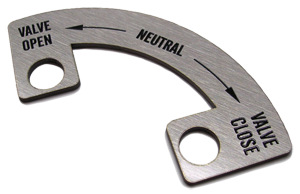 Whether you're creating a data plate, a name plate, or a logo plate for your Cincinnati company, you'll want something that can stay legible and functional for as long as you need it, withstanding the test of time, weather conditions, or whatever else you throw at it.
Beginning with a strong material in mind is where good plates start. A stainless-steel plate can last a lifetime, especially if properly etched and finished. That's why our mission at Detroit Name Plate Etching is to produce stainless steel labels that fulfill our clients' needs for years to come.
Since 1911, DNPE has been there to assist businesses like yours in Cincinnati. We make the plates you require to function out of the materials you need to endure. Stainless steel is just one of many Detroit Name Plate Etching's fields of expertise, but it's one of many materials we carry.
We can produce an infinite number of high-quality stainless-steel plates for all of your industry needs. Stainless steel has been used for millennia to resist rust, oxidation, and other effects of weathering. That's why it's so popular in the food service and industrial sectors: it can withstand splashes, corrosion, and more.
Small businesses like yours in Cincinnati fulfill a variety of needs. As a result, we provide countless customizable variations on stainless steel plates. We try to go above and beyond to ensure that you're completely satisfied. Let our century of experience creating logo plates, data plates, and other items do the talking for us.
If you're ready to get started on your one-of-a-kind, custom-made stainless-steel plates in Cincinnati, give us a call right now!
Our Stainless steel is durable, unusual, and looks striking when etched without fill paint. We stock several gauges: .014″/.35mm to .120″/3mm.