Stainless Steel
For Ashburn Businesses
The bullseye of American's internet is a place where a lot of businesses find themselves. Ashburn, VA isn't just the home of technology and data centers though. It's also home to restaurants, manufacturing plants, and more. That's why Detroit Name Plate Etching is ready to serve Ashburn with stainless steel plates for their business's unique needs.
With stainless steel, we can make name plates, data plates, logo plates, and more! Stainless steel is a strong, lightweight material that's easy to make. If you want a plate that is both long-lasting and resistant to damage, stainless steel is an excellent option. It's a safe material in the food service industry, as well as in manufacturing and other industries.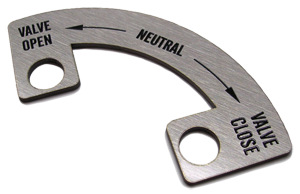 Stainless steel is rust-resistant, long-lasting, and sturdy properties. If you want a durable plate that is strong, unbreakable, and indestructible, this material is an excellent choice. Because it doesn't corrode or rust readily, stainless steel is a common choice for plates. Because of its anti-oxidant and rust-resistant characteristics, it has been utilized for thousands of years.
Detroit Name Plate Etching crafts superb stainless-steel nameplates that are aesthetically pleasing, sturdy, and have all the information you need on them … the way you need them. Whatever your industry or specific demands, you'll be satisfied with our products if you're searching for a stainless-steel sign that will last for years to come. Rest assured, we only utilize top materials and methods so you receive a top-quality product.
At DNPE, our clients come first. That's why we've been in business for over 100 years! Expect the best products that perfectly suit your needs, including custom stainless-steel data plates made specifically for your workplace. We're ready to serve America's home for data centers today. So don't hesitate to reach out – we can start working on your order as soon as possible!
Our Stainless steel is durable, unusual, and looks striking when etched without fill paint. We stock several gauges: .014″/.35mm to .120″/3mm.