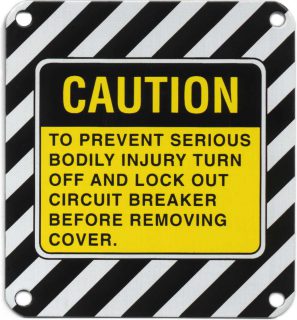 Safety signage in the workplace should complement employee training and provide the necessary information to operate safely in the workplace. Once you are clear on the type of safety signage required in your facility, it is important to work with a reliable printing company that can produce the signage for you.
Part of an effective safety plan includes placing safety signage in the appropriate areas of your facility. It is important to review guidelines regarding the use of safety signage as outlined by the Occupational Safety and Health Administration (OSHA). Make sure that all of your safety signs and labels are OSHA-compliant to protect both your company and your employees. These guidelines are in place for a very specific reason, and it is vital that you follow these guidelines to remain in compliance.
Safety signs should also be able to withstand changes in the environment and should be designed with the most durable materials. You will want to purchase long-lasting safety signs and labels to get the most out of your investment. You can always consult with a trustworthy supplier to determine the best solutions for your facility.
You may want to consider implementing a safety team to ensure proper placement of all safety signage. A safety team is also helpful to make sure your safety signage is compliant with OSHA standards.
Utilizing OSHA-compliant safety signs is just one way you can go about keeping your employees safe in the workplace. This should not replace training classes, the use of personal protective equipment, or other safety measures. Safety signage should always be used in conjunction with other safety measures.
If you are looking for high quality and OSHA-Compliant safety signs and labels that will get the job done for many years to come, contact the experts at Detroit Name Plate Etching.