As a business owner, you know that having the right type of nameplate is essential to ensure your operations run smoother.
A solid nameplate can provide customers and employees with all the necessary information they need – such as what materials are used or who has access to different areas.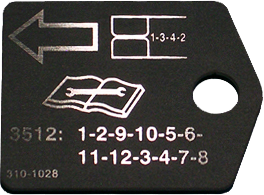 However, it can be difficult to decide which type of nameplate is best for your particular company's needs.
That's why we're going to explore the various types of nameplates available on the market.
Then you can decide which is the right kind for you and your business.
1: Corporate Nameplates
Corporate nameplates serve as a silent but powerful ambassador of your brand.
Apart from grabbing people's attention, they enable your business to make its presence known – and leave a lasting impression on your clients.
Additionally, corporate nameplates allow you to scale down larger versions of your company branding signs into smaller logos. This means that your logo can be easily reproduced on various marketing materials, allowing for greater brand recognition.
2: Product Identification Plates
Product identification plates are a crucial component for machines that operate in tough environments.
These plates (often made of metal) carry important information such as product name, company information, and serial numbers – all of which are essential for proper machine handling and maintenance.
As such, they're designed to comply with regulatory standards and remain readable for the life of the machine.
Even in demanding environments, product identification plates ensure that critical information remains legible and intact, allowing for efficient operation and safe use.
3: Machine Labels
The world today is filled with a variety of machines – from our everyday household appliances to industrial-level machinery. In order for these machines to be identified and recognized, machine labels are necessary.
These durable labels are made from metal, to withstand both time and tough working conditions.
Not only do they help ensure that the equipment is marked correctly, but they also add a level of professionalism and sophistication to the machines involved.
4: Operating Instructions
When it comes to machines installed in harsher environments or near intense heat, ordinary labels and stickers just won't cut it. That's where metal operating instruction plates come in.
They're the perfect solution for adding crucial operating instructions to tools and equipment.
These durable, weather-resistant plates can survive even the toughest conditions – and remain readable even after prolonged exposure.
5: Safety Signs
Safety in the workplace is something that should never be taken lightly, which is why permanent safety signs are a crucial aspect of maintaining a secure environment.
Metal safety plates can be used for a multitude of purposes such as:
Fire exits
Warning signs
Eyewash stations
PPE outfitting areas
Traffic routes
The beauty of permanent safety signs is their durability and longevity, ensuring compliance with regulations, and long-lasting cautionary information.
We Have the Right Nameplate for You
Ultimately, whether it's a corporate nameplate or a safety sign, the choice boils down to which best suits your company's needs.
To get started on finding the perfect name plate for your business, contact Detroit Name Plate Etching Company.
From there, you'll have access to a wide variety of materials and design options.
With so many possibilities at your fingertips, your business will make a lasting impression on customers and employees alike.
Visit Detroit Name Plate Etching Company to request a quote today.