Toledo Data Plates Manufacturer
Toledo's most experienced company for customizing data plates is Detroit Name Plate Etching. Every data plate created by DNPE is specially made with industrial use and each individual client in mind. We offer a variety of personalized plates, including safety warnings, directions for operation, and more.
Every custom data plate is built to your product or equipment's features and industry standards. On cars, equipment, or wherever else you need your data plates to go, use personalized plates from DNPE. We'll help you pick the finest materials and methods for your project based on your unique vision and demands.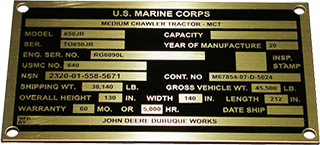 With over a century of experience that we build from, we've made data plates for a number of industries, including building, medical, manufacturing, and the military. Detroit Name Plate and Etching's staff goes above and beyond to provide whatever material your project demands.
Detroit Name Plate Etching is a full-service company dedicated to delivering high-performing data plates that will last years in your business. To generate your data plate, Detroit Name Plate Etching offers screen printing, laser engraving, and more to fit your project's unique needs. Receive expert advice now on which technique or material is best for your project. Contact us!
Contact us today to request a quote or call