Professional Data Plates in Tampa, FL
Professional data plates are a necessity for many industries across the globe, and you may have found that your company in Tampa, FL could use a few new data plates as well.
Before committing to a particular manufacturer, it is important that you first do your research. You need a manufacturer you can trust, and Detroit Name Plate Etching has proven time and time again that we are a company you can count on.
DNPE has been in business for over 100 years and has developed a reputation for excellence in the product identification industry.
When it comes to professionally designed data plates for your Tampa business, DNPE is your one-stop shop.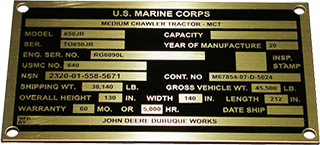 We offer a wide range of materials and processes to produce your finished project. This means you will have more flexibility in the overall design. Our team can create professional-grade data plates in a variety of shapes, sizes, and colors. No need to sacrifice your branding due to limitations in the design process.
Our team will work you to select the most appropriate materials and processes to bring your vision to life. We will also do our part to make sure your data plates will be effective in in their intended environment.
Give us a call today to discuss your data plate needs in Tampa, and to start your quote!
Contact us today to request a quote or call