Durable Data Plates in San Francisco
Whether you are in need of
durable data plates
for your warehouse, machinery, or vehicles, Detroit Name Plate Etching has got you covered.
We are pleased to offer high-performances plates for companies in San Francisco and surrounding areas. With a variety of colors, shapes, sizes, materials, and processes to choose from, you can get as creative as you like with your custom data plates.
For your convenience we offer the following processes to create your finished product: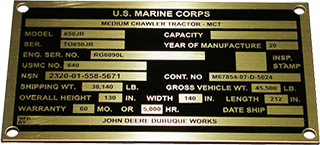 You can also choose from a variety of metals to best suit the application of your professionally-designed data plates.
If you do not yet have a design in mind for your plates, you can work with our design team to build something from the ground up.
It is our goal to make the process as smooth as possible. Simply share your vision with us, and we will handle the rest.
You need data plates that are built to last, and we have the solution for you. Contact us today to learn more about our product identification solutions for businesses in San Francisco.
Contact us today to request a quote or call