Professional Data Plates in Raleigh
Businesses in Raleigh, just like yours, turn to Detroit Name Plate Etching for their data plate needs every day. We provide a variety of configurable data plates, including safety warnings, operation instructions, and more.
DNPE's name plates are all industrial grade and tailored to your product or equipment's exact industry standards. Use DNPE's data plates on machinery, goods, equipment, or wherever else they're required. Simply tell us what you have in mind. Not only will we help you select the best materials and finishing processes, we can also help you choose the best placement and design to convey all the information you need on your data plates.  
Here's a list of DNPE's industrial grade materials. We're sure you'll find what you're looking for to begin building your data plates: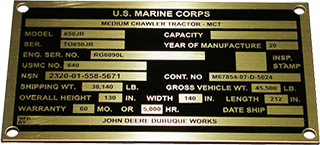 Detroit Name Plate Etching is your one-stop shop for all of your name plate etching needs. Discover which approach or material is best for your project by reading more here.
The staff at DNPE is eager to bring high-performing data plates to your organization in Raleigh and the surrounding areas. Get started by calling us today.
Contact us today to request a quote or call