Quincy Data Plates Manufacturer
Every day, businesses like yours turn to Detroit Name Plate Etching for the data plates they need. We offer a variety of configurable data plates, including those with safety precautions, operational instructions, and more. That way, we can handle any specific requirements you need for your unique project.
Because of this, you can easily and securely integrate DNPE's name plates into your design. All of our plates are made to fit industry standards for your product, equipment, and labeling. On machinery, commodities, equipment, or anywhere else they're needed. All you need to do is describe your requirements and we'll take care of the rest!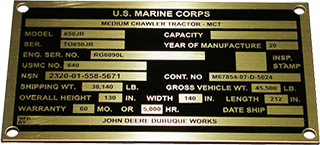 We can help you pick the finest materials and finishing techniques. We're also here to help you select the best placement and design to present all of your vital information on your data plates. To begin, here's a list of DNPE's industrial grade materials. We're confident you'll be able to discover what you need to start creating your data plates:
–
Data plates are one of our many specialties at DNPE. Read more here to find out which process or material is best for your situation. Our team is eager to craft the right data plate for your company in Quincy. Call us today for a quote!
Contact us today to request a quote or call