New York Data Plates Manufacturer
If you're in New York City, you need quality that's over the top. That's why Detroit Name Plate and Etching delivers data plates that meet your project's specifications, requirements, and industry standards. Our customized data plates can include safety warnings, measurements, and other vital information that you need to convey.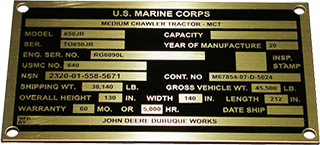 Every single data plate from DNPE is industrial-grade. They're all built to fit your industry, product, and equipment's specifications to a T. Use DNPE's custom plates on any of your machines, goods, equipment, or on anything else you require. Simply let us know your specifications and we'll help you pick the finest materials and processes to complete your project.
Here's a list of the industrial grade materials DNPE provides to help you find what you need right now.
Detroit Name Plate and Etching provides a variety of techniques to finish your project, including screen printing and laser engraving. Find out more about them here to see which process or material works best for you.
With over a century of experience, we've worked with a plethora of industries, including construction, medical, manufacturing, and even military. No matter what requirements you have, count on us to fly above and beyond your expectations.
With DNPE at the helm, you can give your New York City-based organization robust and readable data plates. Get in touch with us right away to get started.
Contact us today to request a quote or call