Houston Data Plates Manufacturer
Detroit Name Plate Etching is Houston's one-stop-shop for reliable industrial
data plates
. These plates are designed for use on machinery and equipment, but can be used in a variety of ways to meet your business needs.
Our high-performance data plates play a major role in a wide variety of industries. From military to aerospace to manufacturing, our plates are used to provide key information and specifications for operators and consumers.
The best part is, these durable data plates will remain legible for many years to come. This means your Houston business can get more bang for your buck. No need to waste money constantly replacing worn out plates.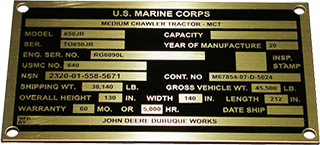 The team at DNPE can work with you to select the most appropriate materials and processes for optimal performance. We also have a professional design team available to assist with any of your design needs.
For your convenience, you can choose from the following materials and processes:
–
Contact us today to discuss your data plate needs in Houston and to start your quote!
Contact us today to request a quote or call