Custom Data Plates and Product Identification in Dallas
Detroit Name Plate Etching offers durable
data plates
and custom product identification solutions for all industries in Dallas, TX.
Data plates can be designed to include general safety warnings, product specifications, instructions for use, and more. With a wide variety of colors, sizes, processes, and materials to choose from, you don't have to sacrifice quality for the sake of design.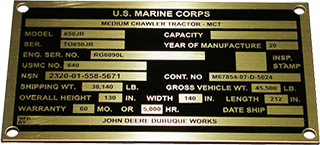 You can also trust that our high-performance metal plates will withstand the test of time. DNPE's metal plates are truly built to last.
Our team will work with you to create professional data plates fit for any application. We can even work with you to build out a design from the ground up.
Not sure exactly what you need? Simply share your vision with us and we will help you select the most appropriate materials and processes for your application and design needs.
The team at DNPE is ready to assist with all your product identification needs in Dallas, TX. Give us a call today to speak with one of our friendly and knowledgeable representatives or fill out the form to start your quote.
Contact us today to request a quote or call