Cincinnati Data Plates Manufacturer
Detroit Name Plate Etching is on standby to help Cincinnati create the specific, customized data plates they need to operate. Every data plate produced by DNPE is custom-made for specific industry uses and tailored to individual businesses. We provide safety warnings, operation instructions, and anything else you may need.
DNPE's custom data plates are all tailored to your industry's standards and built to fit your unique needs. Use personalized plates from DNPE for cars, machines, or wherever else your data plates need to go. We'll work with you to select the finest materials and techniques for your project based on your unique vision and requirements.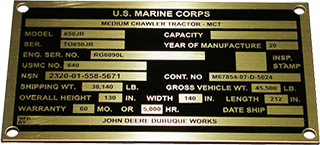 Since 1911, we've made data plates for a variety of sectors, including construction, medical, manufacturing, and the military. Detroit Name Plate and Etching's team goes above and beyond to ensure that your project needs whatever substance it is that you require.
Detroit Name Plate Etching is a one-stop shop for custom data plates that perform well for years in your company. To produce your data plate, Detroit Name Plate Etching provides screen printing, laser engraving, and other services to match your needs. Now's the time to get expert advice on which technique or material is best for you. Contact us now for a consultation!
Contact us today to request a quote or call