Durable Data Plates for Ashburn Businesses
Detroit Name Plate Etching is proud to provide high-quality personalized data plates in Ashburn, VA. Look to DNPE to create expertly crafted safety warnings, operating instructions, and more.
Every data plate produced by DNPE is industrial grade, tailored to your product or equipment's specific demands and industry norms. Use DNPE's data plates on machinery, items, equipment, or anywhere else you need them. We'll work with you to create an informed concept that includes all of the essential details.
DNPE has industrial grade materials you can use to get started.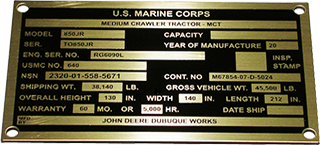 Detroit Name Plate Etching specializes in a number of methods to create your specific data plate. Read more to find out which technique or substance is best for your project.
DNPE's team of experts are excited to produce high-performing data plates that will endure years at your business in Ashburn, VA and the surrounding areas. Contact us right away to get started.
Contact us today to request a quote or call